Book Now
Check Rates & Availability
EU
Resorts
Check Rates
& Availability
As Little as
$49
PP
Reserves your room
Qualifying bookings will have the option to "hold the room" for only $49pp. If you select the "hold" option, the credit card used for the deposit will automatically be charged an additional $302 in 21 days. The total remaining balance of your holiday will automatically be charged 45 days prior to check-in date.
Sandals Best Price Guarantee
Our Best Price Guarantee allows you to feel certain that the room rate you receive is the best price for your Sandals vacation. You can book with confidence online, through your favourite travel agent, or by calling 08000223030 .
If within 24 hours of booking your online holiday at www.sandals.com, you find a lower price for the same arrival date, number of nights and room accommodations we will refund the difference.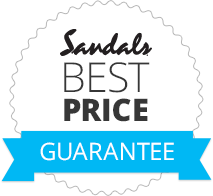 All Water All Luxury All on Jamaica's South Coast
Set on a 2-mile stretch of pristine white-sand beach and nestled within a 500-acre nature preserve, Sandals South Coast is Jamaica's best kept secret. This spectacular seaside oasis grants lovers an escape from the world in the heart of the Caribbean. With its signature architectural design features, including Over-the-Water Bungalows, an Over-the-Water Serenity Wedding Chapel and now introducing the all-new Rondoval Swim-up Suites, this all-inclusive resort is the perfect escape for couples looking to reconnect with the one they love.
NOW OPEN
Book Now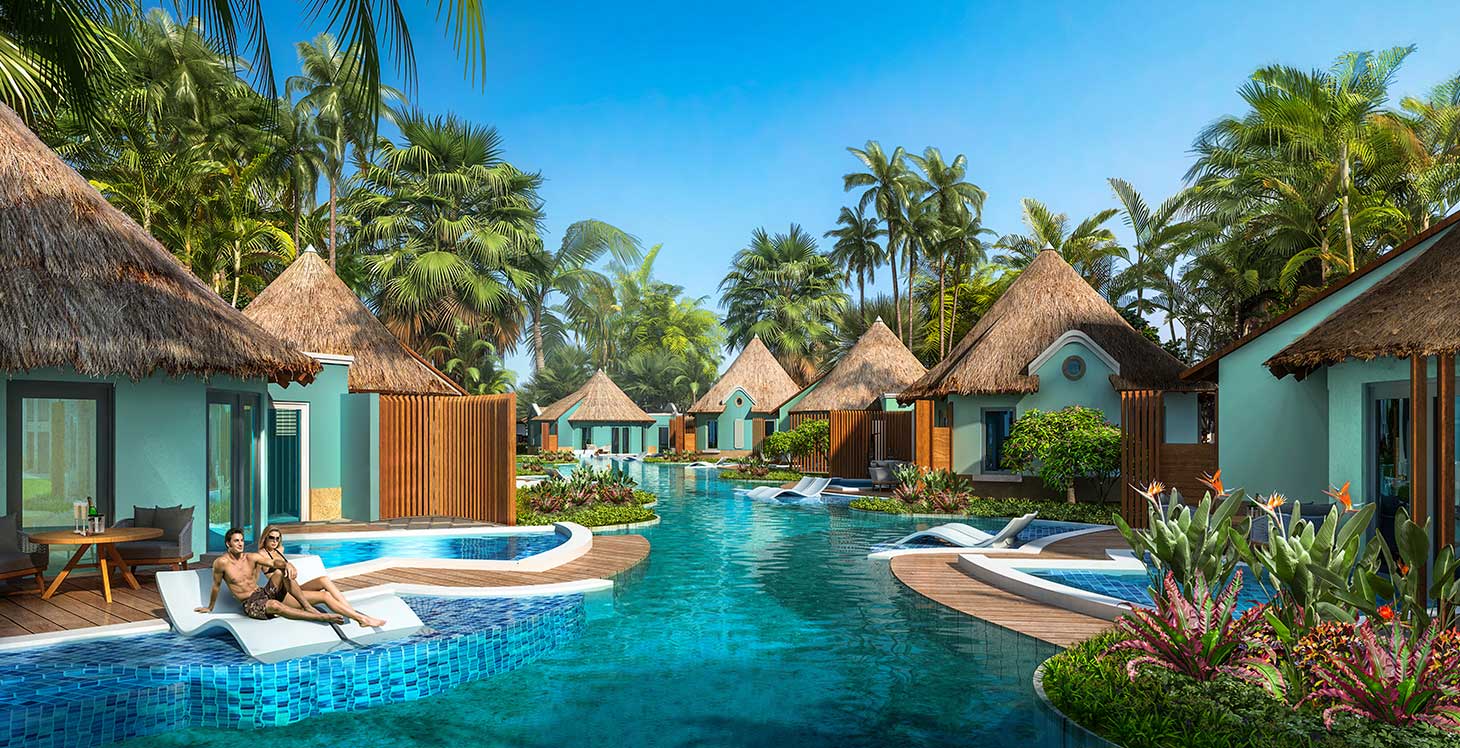 South Seas RONDOVAL VILLAGE
Introducing the South Seas Rondoval Village, the newest oasis to Sandals South Coast. Crafted with the ideals of romance, tranquility and privacy, the newest Rondoval Village features signature suites that take inspiration from the ocean's endless nature. Soak up the sun on your villa's private deck, descend into a surrounding river pool that weaves around the resort, or simply enjoy the luxurious amenities inside your suite. Either way, there's never been a better way to experience Jamaica's best kept secret.
View All Rooms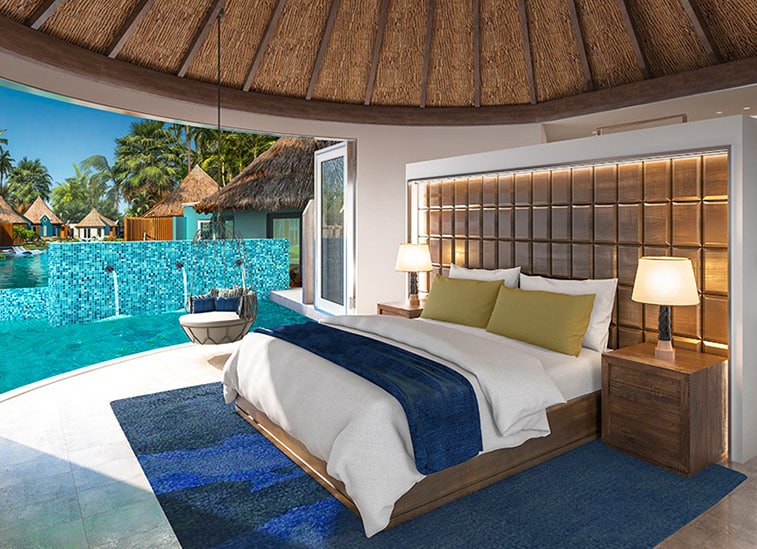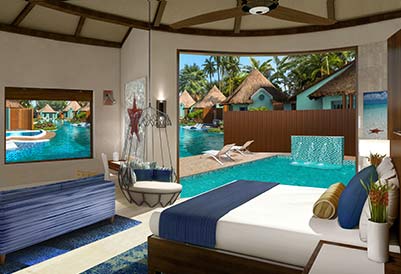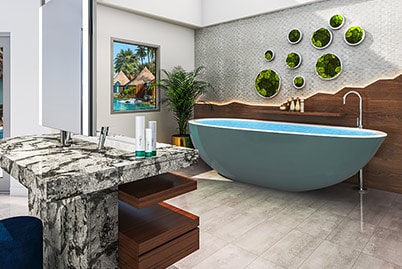 Swim-Up RONDOVALS
The all-new signature luxury Rondoval Swim-Up Suites welcomes guests to a secluded retreat nestled at the heart of Sandals South Coast's newest village. These romantic hideaways feature soaring conical ceilings, lavish spa-style bathrooms and a private patio with zero-entry river pool access.
Signature Features Include:
Private plunge pool
Spa-style bathrooms
High conical ceilings
Butler Elite Service
Private patio with zero-entry
river pool access
Signature Tranquility Soaking Tub for Two®
Custom details throughout made with beautiful wood from all over the world including a unique suspended serenity swing for two
Over
17,000
sq. feet of
water to
drift away
SANDALS LONGEST RIVER POOL
Located in the South Seas Rondoval Village, Sandals South Coast is now home to Sandals longest swim-up river pool with over 17,000 sq. feet of water to swim or drift away on. The introduction of this new pool makes it the longest pool in the Caribbean and the Western Hemisphere!
View All Rooms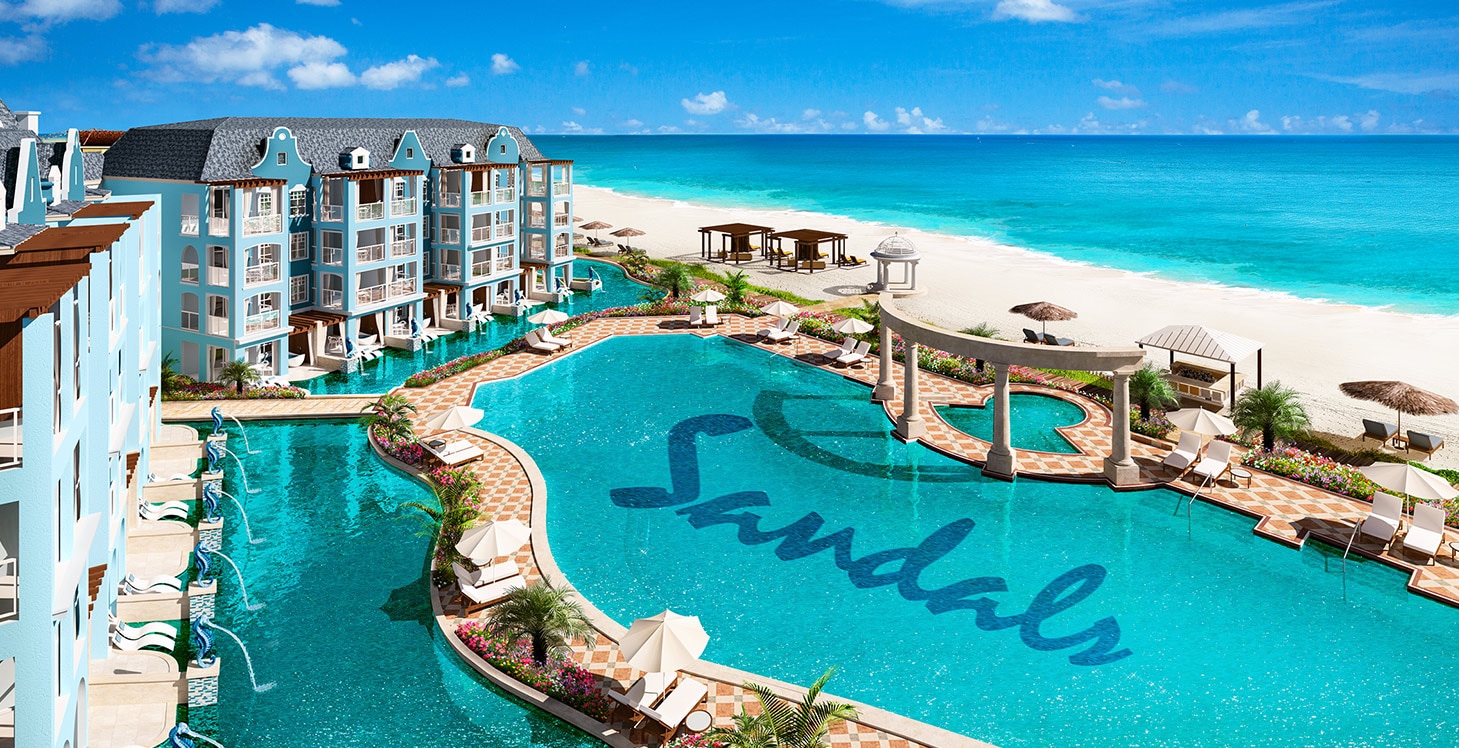 All-Beachfront DUTCH VILLAGE
Introducing the all-new, all-beachfront Dutch Village at Sandals South Coast! Featuring 112 magnificent rooms and suites, including Sandals first-ever luxury level rooms with beachfront views, club and butler level rooms with outdoor Tranquility Soaking Tubs™ for two, and two new swim-up pools.
SWIM-UP Rooms & Suites
These stunning accommodations in the all-new Dutch Village allow you to step from the comfort of your luxurious room right into the water and vice-versa all day long. These swim-up rooms and suites feature a modern, open concept plan that flows from your opulent room to a private patio with a zero-entry platform at the very edge of a gently flowing river pool.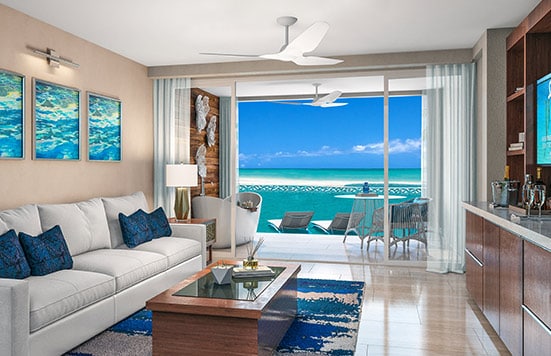 All New
SWIM-UP BUTLER ROOMS
The all-new Dutch Village butler suites include outdoor Tranquility Soaking Tubs™ for two, Butler Elite Service, and either an expansive balcony or private patio with swim-up pool access.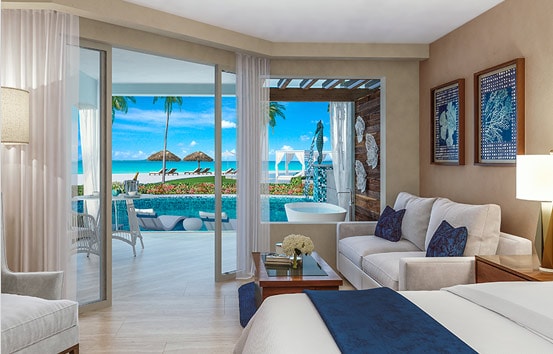 All New
SWIM-UP CLUB ROOMS
The all-new Dutch Village club level rooms with outdoor Tranquility Soaking Tubs™ for two feature either an expansive balcony or a private patio with swim-up pool access.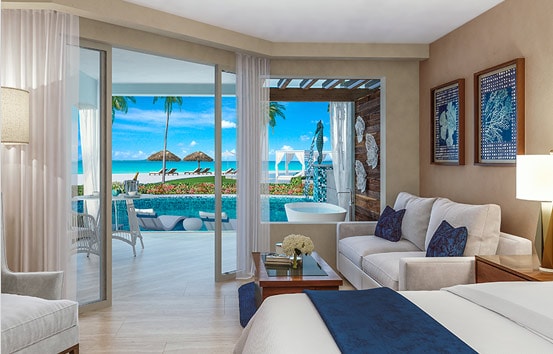 First Ever
BEACHFRONT LUXURY LEVEL ROOMS
Sandals first ever beachfront luxury level rooms boast an expansive balcony overlooking spectacular beachfront views with outdoor Tranquility Soaking Tubs™ for two
View All Rooms
Up to $1,000 Instant Air Credit
Get up to $1,000 Instant Air Credit. Booking window: Now - Feb. 28, 2017.
For travel now - Dec. 26, 2018.
Offer: $1,000 Air Credit on 7-paid nights or longer
Offer: $755 Air Credit on 6-paid nights
Offer: $555 Air Credit on 5-paid nights
Offer: $420 Air Credit on 4-paid nights
Offer: $350 Air Credit on 3-paid nights
Blackout Dates: Dec. 27 - 31, 2017 | Dec. 27 - 31, 2018.
Air Credit offer is valid for new bookings only.
For air inclusive bookings, the $1,000, $755, $555, $420 & $350 Air Credits are in USD, applied to the base fare and excludes government taxes and fees, which must be paid at time of booking and is fully non-refundable.
Offer is combinable with other Sandals consumer saving promotions.
Credit vouchers are subject to Terms & Conditions of any promotion and may or may not be combinable.
Offers are combinable with Sandals Select Rewards Point promotions or WorldPoint redemptions.
Maximum Sandals Select Point redemption per reservation is 20,000 Sandals Select points valued at $500.00 USD.
Unique Travel Corp., reserves the right to verify all accounts prior to adjusting reservations. Limit one redemption reservation per member.
Booking names must match the Sandals Select Membership account or it will be null and void.
Both passengers must be booked for the same flight and itinerary cannot include voluntary stopovers.
Cancellation of hotel booking will result in cancellation of all associated airline tickets.
Offers may not be applicable to group bookings.
All featured prices are in US Dollars.
Offers are subject to availability throughout promotional period and may be changed or withdrawn at any time. Other restrictions and limitations may apply.
Not responsible for errors or omissions.