Book Now
Check Rates & Availability
EU
Resorts
Check Rates
& Availability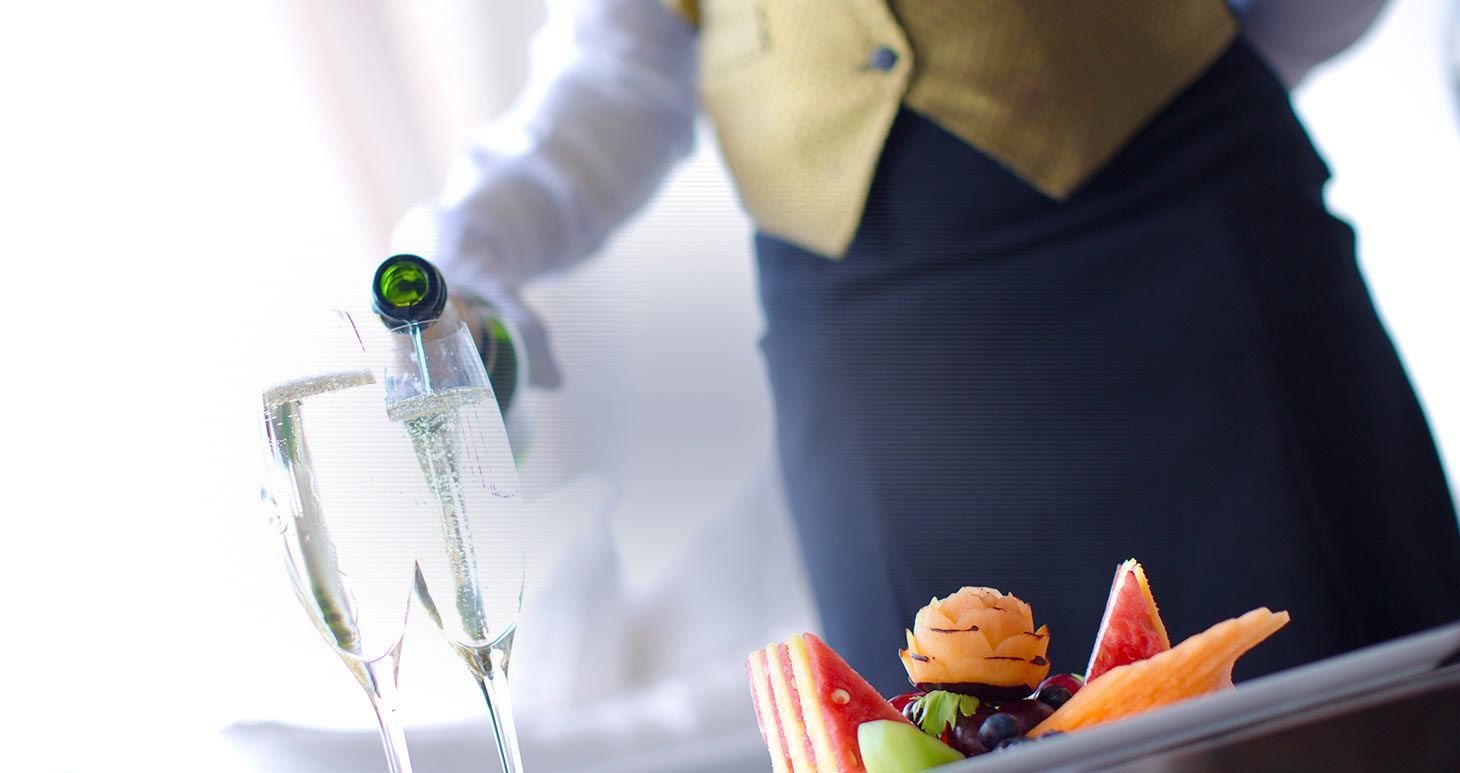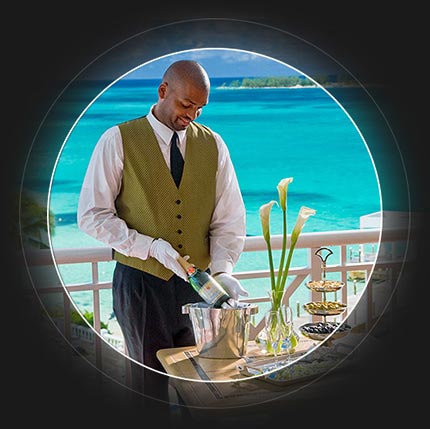 Perfection simply isn't enough
Sandals all-inclusive resorts offer a whole new definition of sublime. Our unprecedented resort Butler Service, only available in our very highest level of suites, provides our most discerning guests with an unimaginably supreme standard of service and luxury, where your every need is anticipated.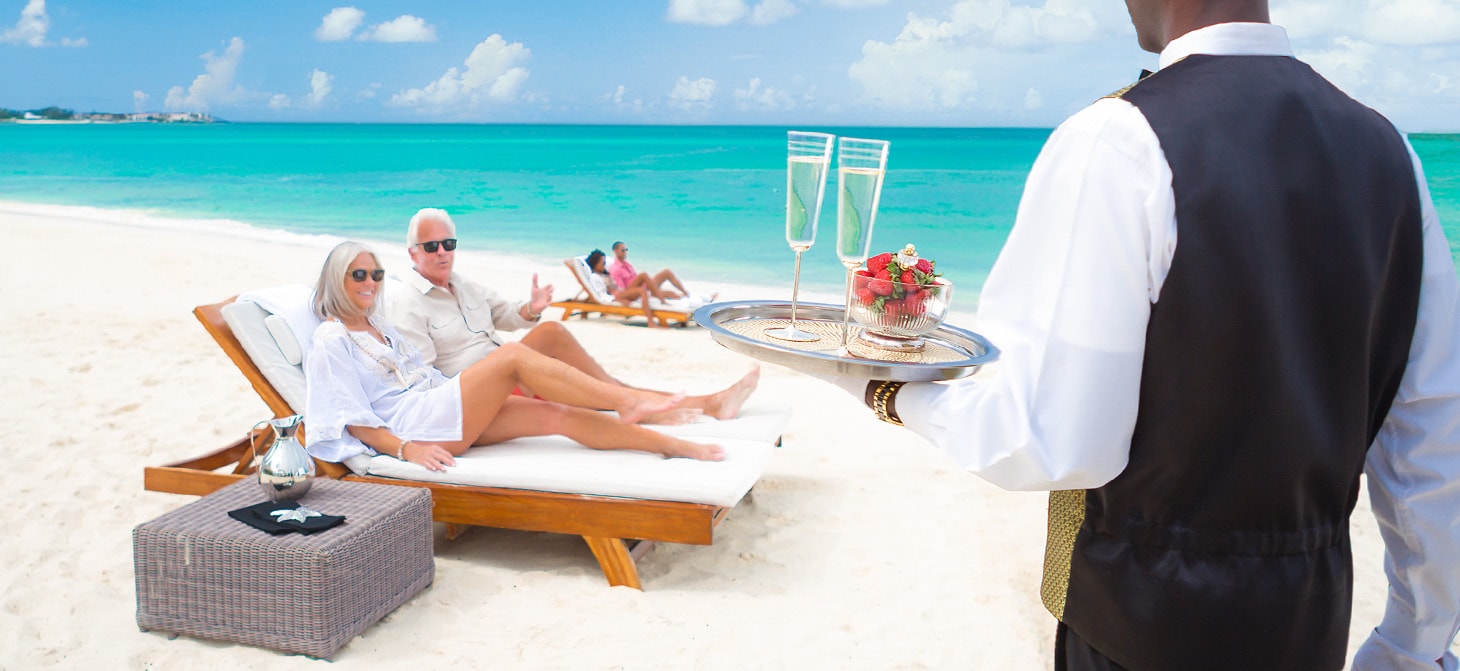 What your Sandals
Butler
will do for you
Upon arrival:
Greet you with lemongrass-scented hand towels to refresh you from your flight.
Offer welcome cocktails and culinary treats.
Escort you to your suite and coordinate luggage handling.
Provide you with all information regarding hotel facilities.
Handle private check-in comfortably in your suite.
Orchestrate any personal accommodation preferences.
Supply a cell phone to reach him/her when needed.
Provide a private resort orientation.
Offer to unpack your luggage.
Press your first nights clothes complimentary.
During your stay:
Make all dinner reservations, tour bookings, on property activities and spa treatments for you.
Serve you your favourite drinks while you lounge on the beach or pool.
Serve you lunch on the beach or on the pool.
Liaise with housekeeping regarding the servicing of your suite.
Ensure that your suite is kept in perfect condition and arranged the way you like during your stay.
Expedite all room service orders.
Ensure your table is arranged in the restaurant of your choice for dinner.
Arrange a perfect romantic dinner for two in the privacy of your suite or your patio. Unlike our competitors, our butler elite guests can order from any resort restaurant menu for dining in their room or suite.
Shine/clean your shoes for dinner.
Tend to your wardrobe.
Collect and return all laundry for you.
In the evening:
Bring you amenities before dinner.
Escort you to dinner where they have reserved a beautifully decorated table at the restaurant of your choice - with preferential seating.
Ensure your suite is turned down and your room has all it needs for the night.
Before your departure:
Arrange transportation back to the airport.
Provide you with information regarding check out.
Assist you in folding your clothes for packing.
Retain all your preferences for future visits.
At departure time:
Ensure your bags are brought up to the departure area.
Escort you to the Club/butler lounge and process your paperwork for check out.
Escort you to your transportation and bid you farewell.
Weekly activities:
Weekly Cocktail Party.
Butler guests are invited to all Club Sandals Activities.
In-room inclusions:
Distinct Club Sandals room key (Butler Elite Key).
His and hers plush robes with bed slippers.
24hr Room Service.
In-suite bar stocked daily with sodas, juices, water, and your choice of Robert Mondavi Twin Oaks® wines and premium spirits.
Luxurious, custom solid-mahogany furnishings.
Fine Egyptian cotton linens and pillow menu including feather down pillows in all rooms.
Coffeemaker with Jamaican Blue Mountain coffee.
Free Wifi in all rooms and public areas.
note:
In addition to all of the Butler Elite inclusions, butler guests will have access to all the Club Sandals amenities and weekly activities.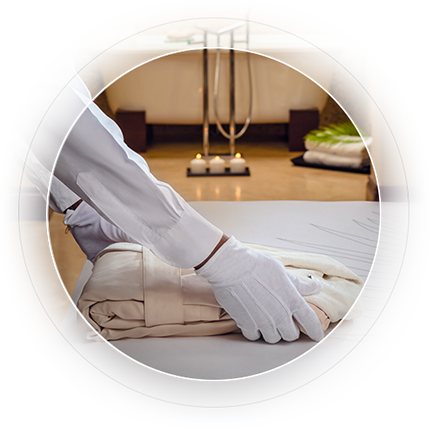 Personalised Butler Service
There was a guest who requested to have breakfast on their balcony each morning

. On the last day before their departure the butler located a ladder, climbed up to their balcony (on the third floor) and laid breakfast out. Then called the guest and asked them to open their balcony door. They were speechless when the saw the butler on the balcony with breakfast elegantly arranged for them.

A guest arrived and requested to do the resort diving

, however she had a phobia of deep waters. She managed to get through the pool classes but then had to master diving in the ocean. Her butler knowing that she had this phobia and who was also a certified diver, surprised the guest on the dive boat and went diving with her. The guest and this butler dive almost every time she comes to Sandals.

There was a guest who arrived who had just had her baby six months prior

, having been a first time mom she missed her daughter dearly and this made uneasy during her stay. Her butler, sensing this, called her mom back home and requested photos of the baby. The butler received six photos of the baby, bought some frames and placed them all over the suite. When the guest arrived back from the beach and saw all the photos her spirit was immediately lifted for the duration of her stay.

A guest went sailing every day

, they always brought Red Stripe out with them. Knowing that they would be out of beers soon the butler got the rescue boat and bought an additional cooler of beers for them while they were still sailing.

A gentleman wanted to propose to his girlfriend

, so he asked the butler to arrange it for them. The butler got four pool floaters, stacked them together, made it up with linen, lit candles around it, tikki torches, champagne and canapés. The couple came to the location and were ecstatic. The butler then had a plate in his hand with a food cover on in and asked the lady to remove it. Written in the plate was "Rebecca, will you marry me?" and the ring placed in the centre of the plate.

A guest had booked a candlelight dinner

, however the weather did not permit them to dine on the beach. The guest was quite disappointed about this and wondered what they will do. The butler booked a spa treatment and they went to the spa. While they were at the spa the butler re-arranged their suite, elegantly arranged the table, got some bags and covered them with sand. The butler also had some glow in the dark stars and hung them from the ceiling, played a CD with ocean sounds and placed palm trees around the table. When the guest returned from the spa they could not believe that they were standing in their room. They had a wonderful evening dining in the privacy of their suite with the feeling they were right on the beach.
View Butler Level Accommodations at