Book Now
Check Rates & Availability
EU
Resorts
Check Rates
& Availability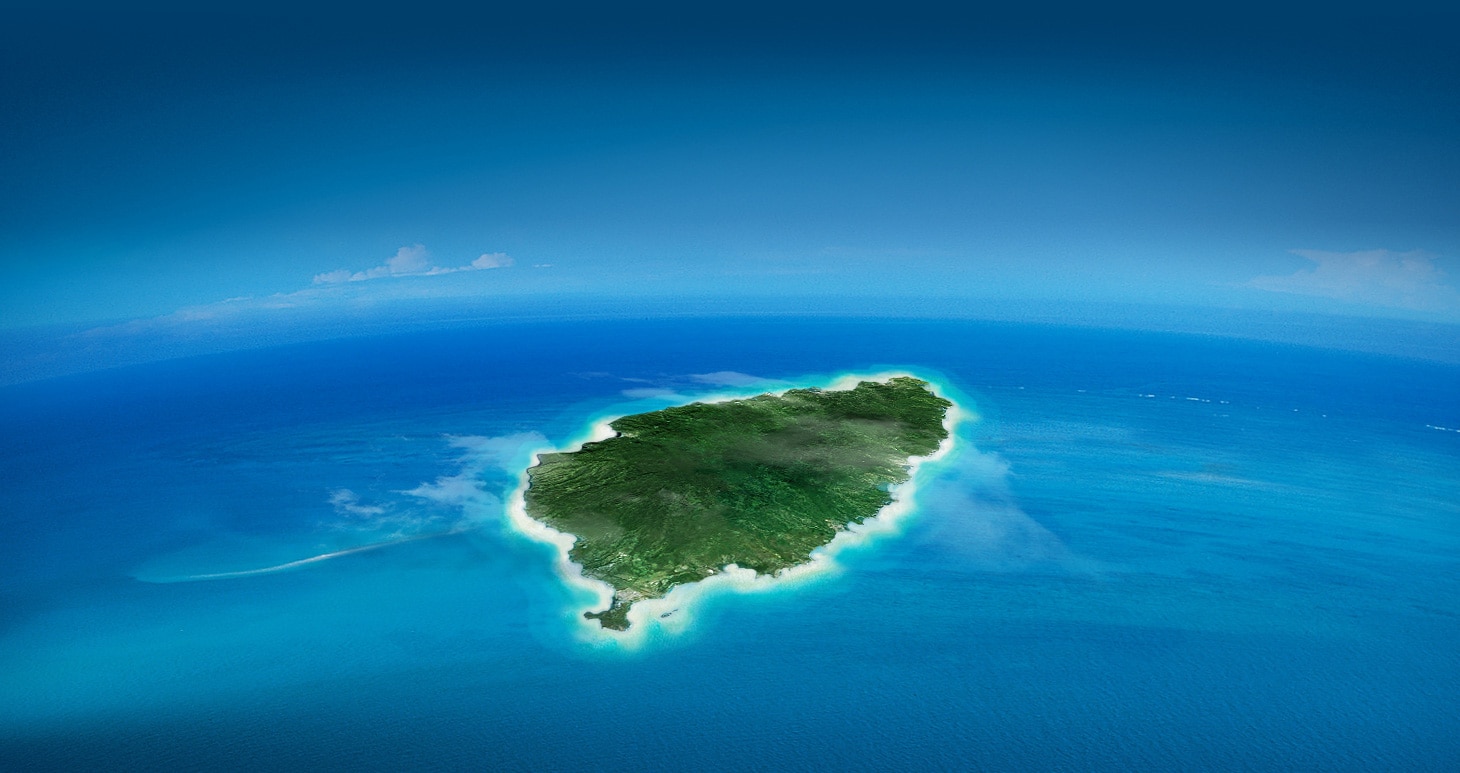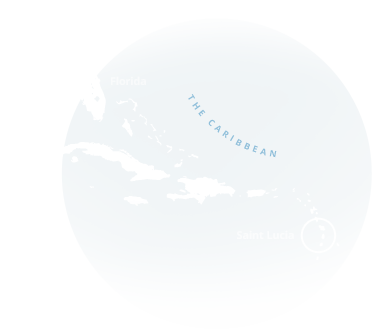 The Islands are our home. Come share them with us.
saint lucia
Exotic paradise beyond compare
scroll below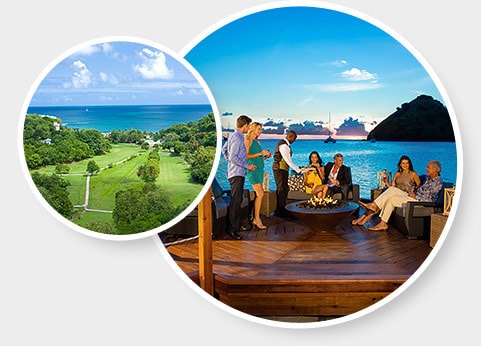 Discover Saint Lucia
France and England fought to reign over Saint Lucia for nearly 200 years. While British customs and traditions prevail, there is a decidedly French influence that permeates this paradise‑in the local accent and refined cuisine. But it's the love of romance that is most remarkable. It's found in the fiery passions of its ancient volcano, the serene abundance of its rainforest and the rhapsodic charm of Marigot Bay. Even the twin peaks of Les Pitons, the island's iconic landmark, pair off as beautifully as two people in love.
1golf
course
Only Sandals Gives You Three Holidays In One
Explore more of Saint Lucia's exotic beauty with our Stay At 1, Play at 3 Programme. Our exclusive exchange programme expands your dining options to 27 restaurants, gives you access to an amazing golf course with green fees included, and lets you enjoy the vibrant entertainment that's ever‑changing from night to night at all Sandals Resorts in Saint Lucia. Plus, round‑trip transfers are included between all three resorts.
Learn More
3 Resorts
on Saint Lucia's best beaches
Regency La Toc
Castries, SAINT LUCIA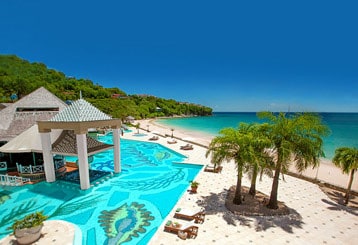 Glamorous resort with a cove beach and cliff-side suites
View Resort
Grande St. Lucian
Gros-Islet, SAINT LUCIA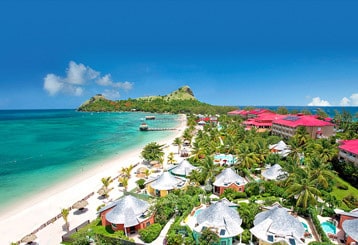 Views that Stir the soul from a unique peninsula location
View Resort
Halcyon Beach
Castries, SAINT LUCIA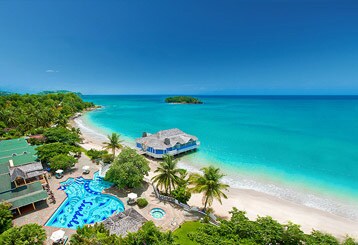 The quintessential Caribbean resort amidst luxuriant gardens
View Resort
EXPERIENCE MORE
in Saint Lucia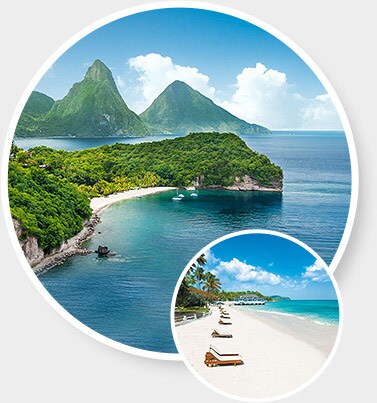 a land of
Volcanic Splendour
Gaze at the world famous peaks of Gros Piton and Petit Piton. These majestic cones offer a glimpse into the volcanic origins of Saint Lucia, a tantalising taste of the dynamic forces that formed this beautiful island and that animate her still to this day. Hints of Saint Lucia's fiery nature can be found in the exotic dark sand that covers some of Saint Lucia's many alluring beaches and in the warm sulfur springs that bubble up from deep within the earth.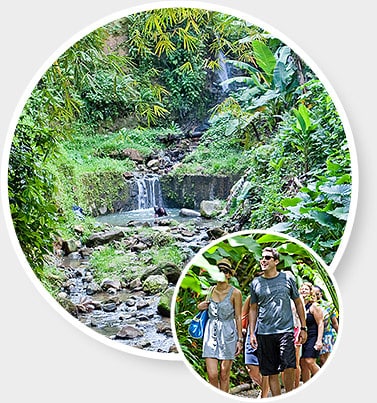 A true Tropical
Rainforest
1,800 feet above sea level awaits a true tropical rainforest–19,000 acres filled with vivid flowering vines, luxuriant greenery, approximately 30 species of birds, and a whole menagerie of spectacular fauna. And, with 29 miles of trails running through this cornucopia of natural wonders, you can completely immerse yourself in the very soul of this remarkable environment. Indulge in one of the guided tours of the rainforest and treat yourself to an experience you will treasure forever.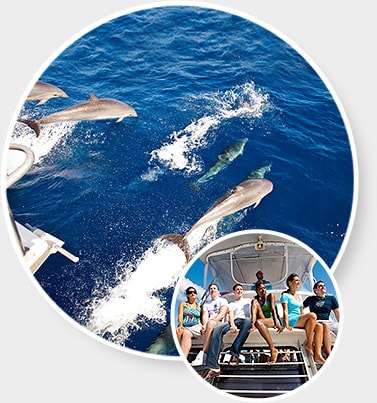 watch
Dolphins and Whales
Every year over 20 species of whales are sighted from this island's pristine shores. That must be why Saint Lucia is renowned as one of the top sites for whale watching in the entire world. From humpback, pilot and sperm whales to spinning and spotted dolphins, you too can observe these colossal mammals as they cavort and frolic in their natural habitat, drawn, just as we are, by the almost mystical call of Saint Lucia.
Saint Lucia
Exotic paradise beyond compare

SAINT LUCIA QUICK FACTS
Population:

160,000

Language:

English

Capital:

Castries

Electric:

220/110v

Climate:

Tropical

Sandals Resorts:

3