Book Now
Check Rates & Availability
EU
Resorts
Check Rates
& Availability
at SANDALS Grenada
In the water or on dry land, there's something for everyone at Sandals Grenada. You can do as much as you want to do - even PADI certified scuba diving in spectacular waters - or absolutely nothing at all because it's all included, all unlimited, all the time.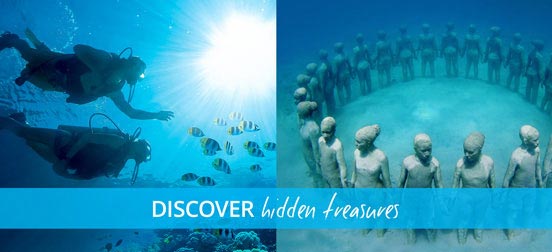 included
PADI® Certified Scuba Diving
While scuba diving in the turquoise blue waters of the Caribbean, you'll marvel at the healthy reef systems and well-preserved wrecks, including the world's first underwater sculpture gallery. That's why divers flock to this corner of the planet, and it's why Sandals offers one of the most comprehensive scuba diving programs anywhere - and it's all included!
Learn More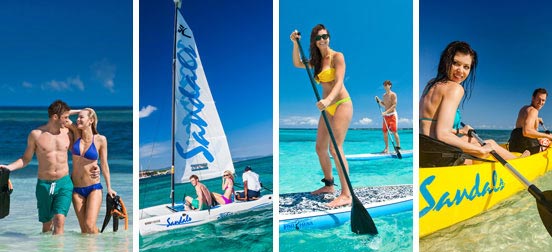 included
An Ocean of Water Sports
Every water sport imaginable is included along with top-of-the-line equipment and professional instruction. Sandals includes a full range of water sports like:
Kayaks
Windsurfing
snorkeling
hobie® cats
Scuba diving
paddle boarding
Learn More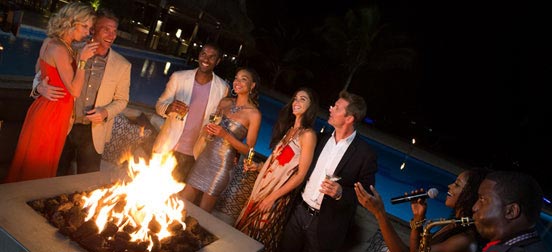 included
Entertainment, Day and Night
No one throws a party like Sandals because here every day is a celebration. From the slightly wild and exotic to the modern and lively, you'll find parties around the beach, around the pool and around the clock.
talent showsbeach party nightlover's nightstreet party nighttalent nightfashion showslive bandslive shows
Learn More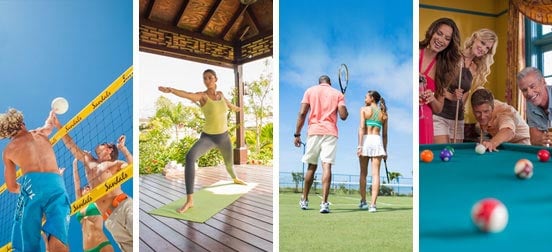 included
Unlimited Land Activities
From the sands to the courts, Sandals includes unlimited land sports so there are no limits to what you can play, when you can play including:
Table tennis
shuffleboards
day & Night tennis
Bocce ball
beach volleyball
board games
pool tables
Learn More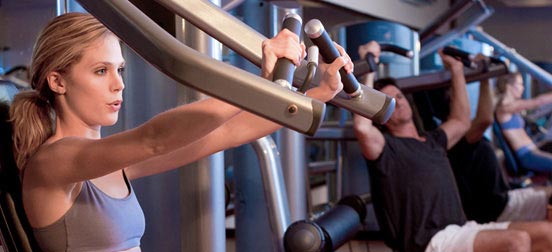 included
State-of-the-art Fitness Centre
Stay fit while enjoying your time away! Whether it's in one of our high-energy group fitness classes or cardio and weight-training with our top-of-the-line equipment, you will be sure to find the fun in fitness!
Aerobic Classesaqua-fit classestreadmillselliptical machinesexercise bikesstairclimbersfree weightsuniversal weights
Learn More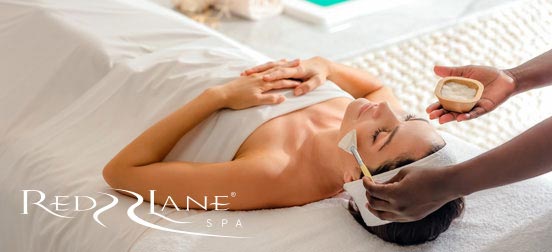 optional
Red Lane® Spa
Discover a tranquil sanctuary at the exclusive Red Lane® Spa at Sandals Grenada, offering Caribbean-inspired spa treatments using natural regional products. The spa offers a number of treatment rooms, a fitness centre, beauty salon and steam room.
Learn More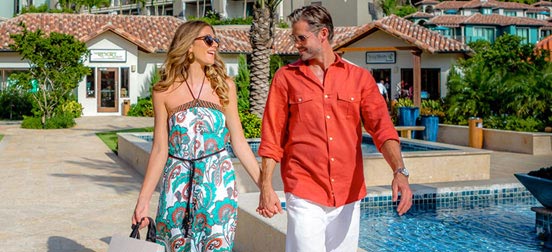 optional
Resort Boutique
At Sandals, you can enjoy duty free shopping at our on-resort boutiques. Browse through art galleries, our resort shop, and even luxury jewellery retailers for the perfect gift. Our resort shop features various sundries from branded items to local crafts. And at Sandals Grenada, you can find the finest jewellery at Colombian Emeralds International, a leader in luxury travel retail for 35 years.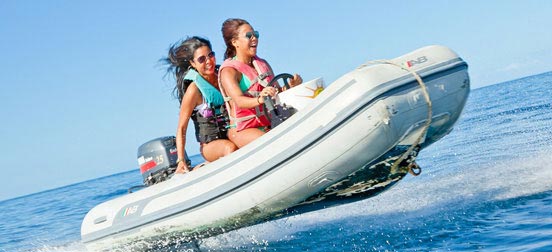 optional
Local Adventure Tours
The best way to experience Grenada in full is to get up close and personal with it. Island Routes offers luxury adventure tours that range from completely exhilarating to delightfully sedate. No matter what your speed, you'll gain insider insights and a whole new perspective on this beautiful paradise.
Learn More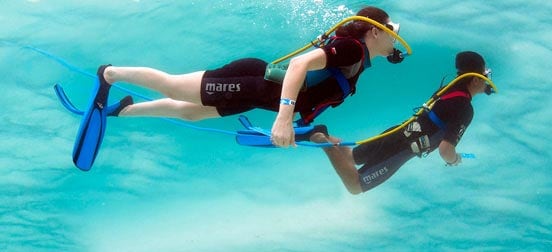 optional
Snuba
Experience the thrill of scuba diving with the ease of snorkelling on a guided SNUBA® adventure. Explore crystal clear waters with a maximum depth of 20 feet and enjoy the fun of breathing underwater without the training, pool classes or heavy equipment.
Water Sports at Sandals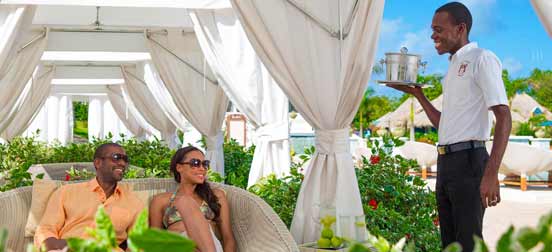 optional
Private Cabanas
Private Cabanas Lounge all day in curtained cabanas for two. Straw-roofed Balinese gazebos each containing two comfortable beds are dotted around the exotic gardens, on the beach and around the pool.
Up to $1,000 Instant Air Credit
Get up to $1,000 Instant Air Credit. Booking window: Now - Feb. 28, 2017.
For travel now - Dec. 26, 2018.
Offer: $1,000 Air Credit on 7-paid nights or longer
Offer: $755 Air Credit on 6-paid nights
Offer: $555 Air Credit on 5-paid nights
Offer: $420 Air Credit on 4-paid nights
Offer: $350 Air Credit on 3-paid nights
Blackout Dates: Dec. 27 - 31, 2017 | Dec. 27 - 31, 2018.
Air Credit offer is valid for new bookings only.
For air inclusive bookings, the $1,000, $755, $555, $420 & $350 Air Credits are in USD, applied to the base fare and excludes government taxes and fees, which must be paid at time of booking and is fully non-refundable.
Offer is combinable with other Sandals consumer saving promotions.
Credit vouchers are subject to Terms & Conditions of any promotion and may or may not be combinable.
Offers are combinable with Sandals Select Rewards Point promotions or WorldPoint redemptions.
Maximum Sandals Select Point redemption per reservation is 20,000 Sandals Select points valued at $500.00 USD.
Unique Travel Corp., reserves the right to verify all accounts prior to adjusting reservations. Limit one redemption reservation per member.
Booking names must match the Sandals Select Membership account or it will be null and void.
Both passengers must be booked for the same flight and itinerary cannot include voluntary stopovers.
Cancellation of hotel booking will result in cancellation of all associated airline tickets.
Offers may not be applicable to group bookings.
All featured prices are in US Dollars.
Offers are subject to availability throughout promotional period and may be changed or withdrawn at any time. Other restrictions and limitations may apply.
Not responsible for errors or omissions.