Book Now
Check Rates & Availability
EU
Resorts
Check Rates
& Availability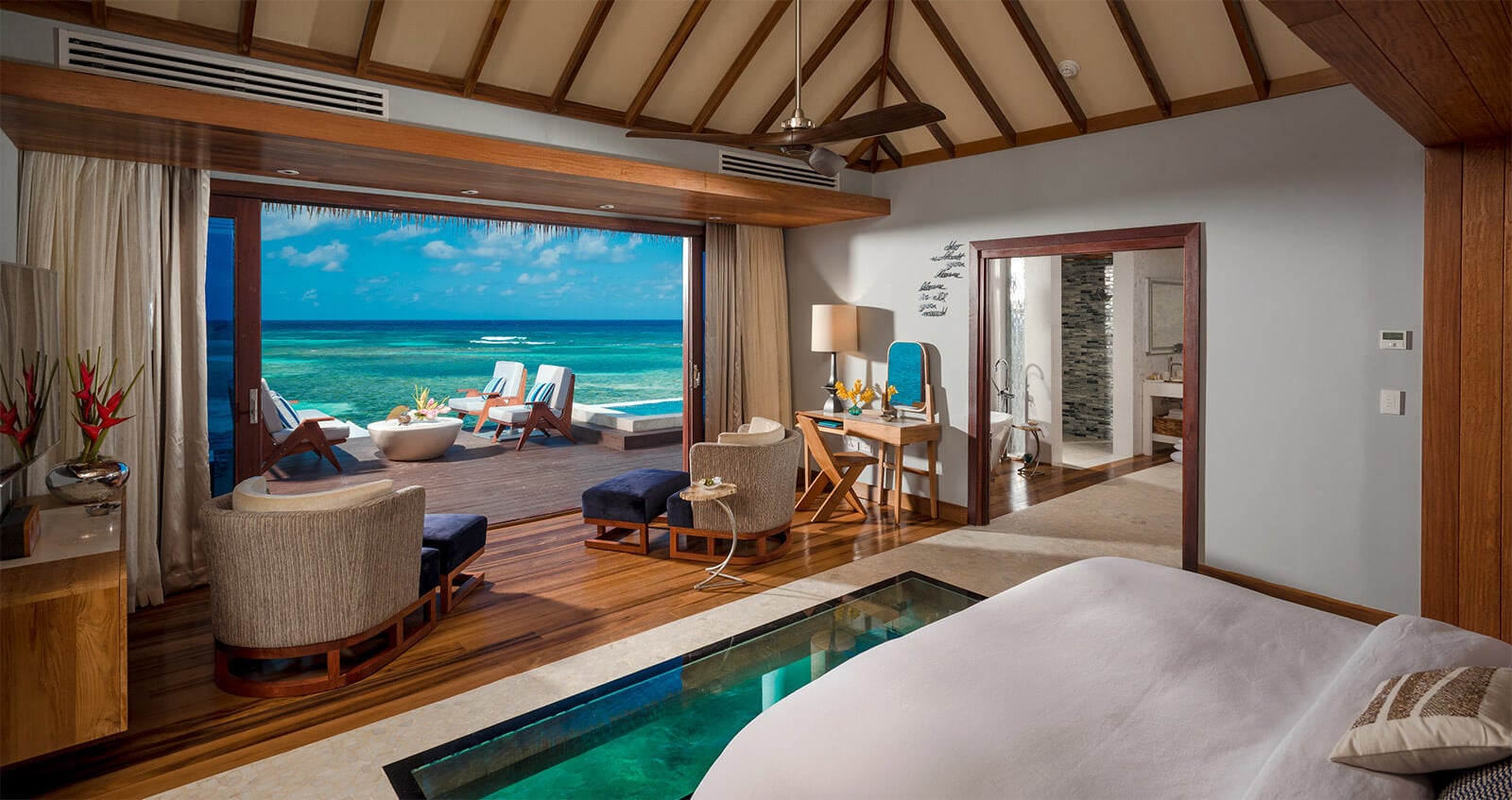 From enviable beachfronts to staggering cliff-tops, our suites are so exotic, so private, and so indulgently romantic, we could only call them Love Nest Suites®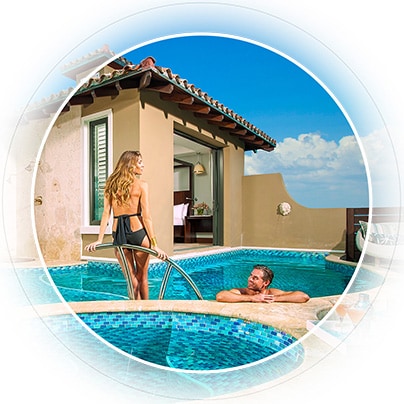 The Most Exclusive Suites in the Caribbean
Each suite offers the utmost in privacy and plush elegance, including 24-hour room service and professionally trained butlers who cater to your every whim in top-tier suites. In a Love Nest Suite®, every luxurious detail has been carefully considered and exquisitely achieved–from the finest custom furnishings and appointments to the added touches provided by a dedicated staff that strives to make your holiday that much more perfect.
View Video
5-Star Features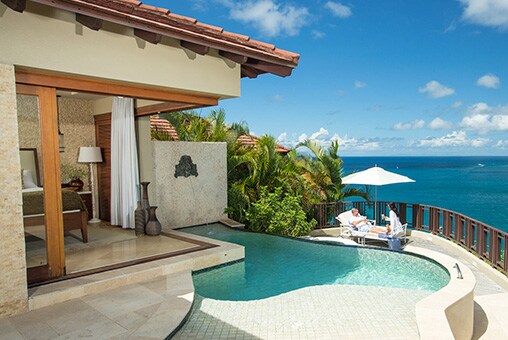 All Love Nest Suites® include:
Butler Service
24-Hour room service
Plush robes and pillow menu
VIP Check-in
Separate sitting area
Private balcony or patio
Access to Club Sandals Lounge
In-suite bar stocked daily
In-suite premium spirits
Bathrooms as impressive as our suites
In bathrooms where free-standing tubs range from modern interpretations of a claw foot to solid marble tubs floating on beds of river rocks, extravagance takes on a whole new meaning. Other features include stone accents, rain showers, and his and her vanities that are utterly stylish.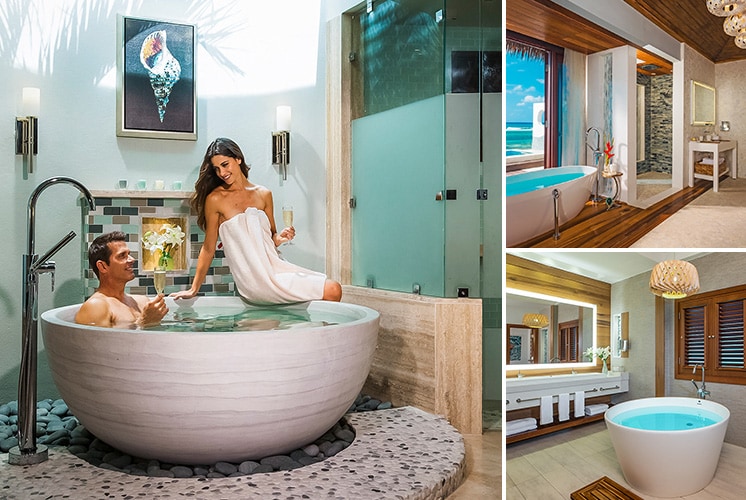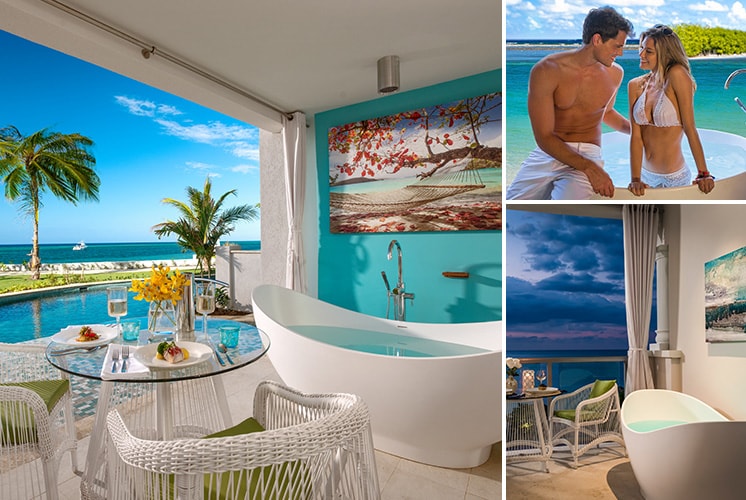 Tranquility Soaking Tubs™ for two
While Sandals has created the most lavish bathrooms inside with extraordinary custom-sculpted stone tubs and modern interpretations of free-standing tubs, we've also created a brand-new signature outside. Found on private patios and balconies of most of our rooms and suites located behind elegant privacy curtains, they create a whole new way to celebrate romance al fresco.
learn more
Exclusive Services that go beyond luxurious
Our
Butler Elite
service provides guests staying in the top-tier suites with flawless personalised attention. From VIP Check-ins and private parties to an exclusive
Club Sandals
lounge and free Wi-Fi every detail has been thought of to create the ultimate Luxury Included
®
holiday.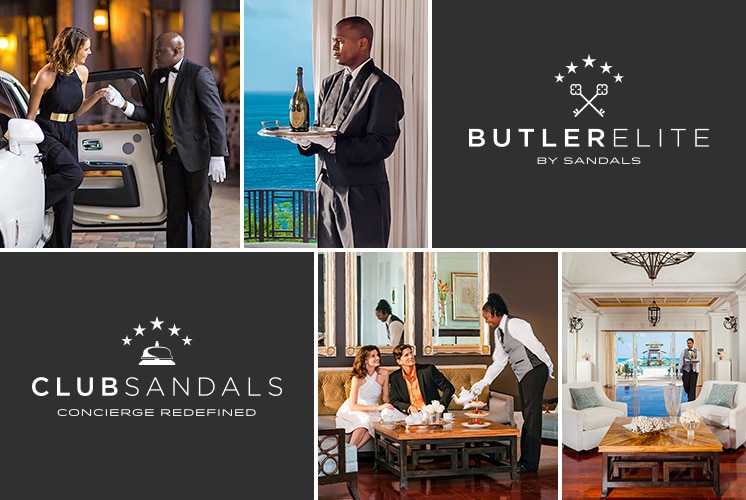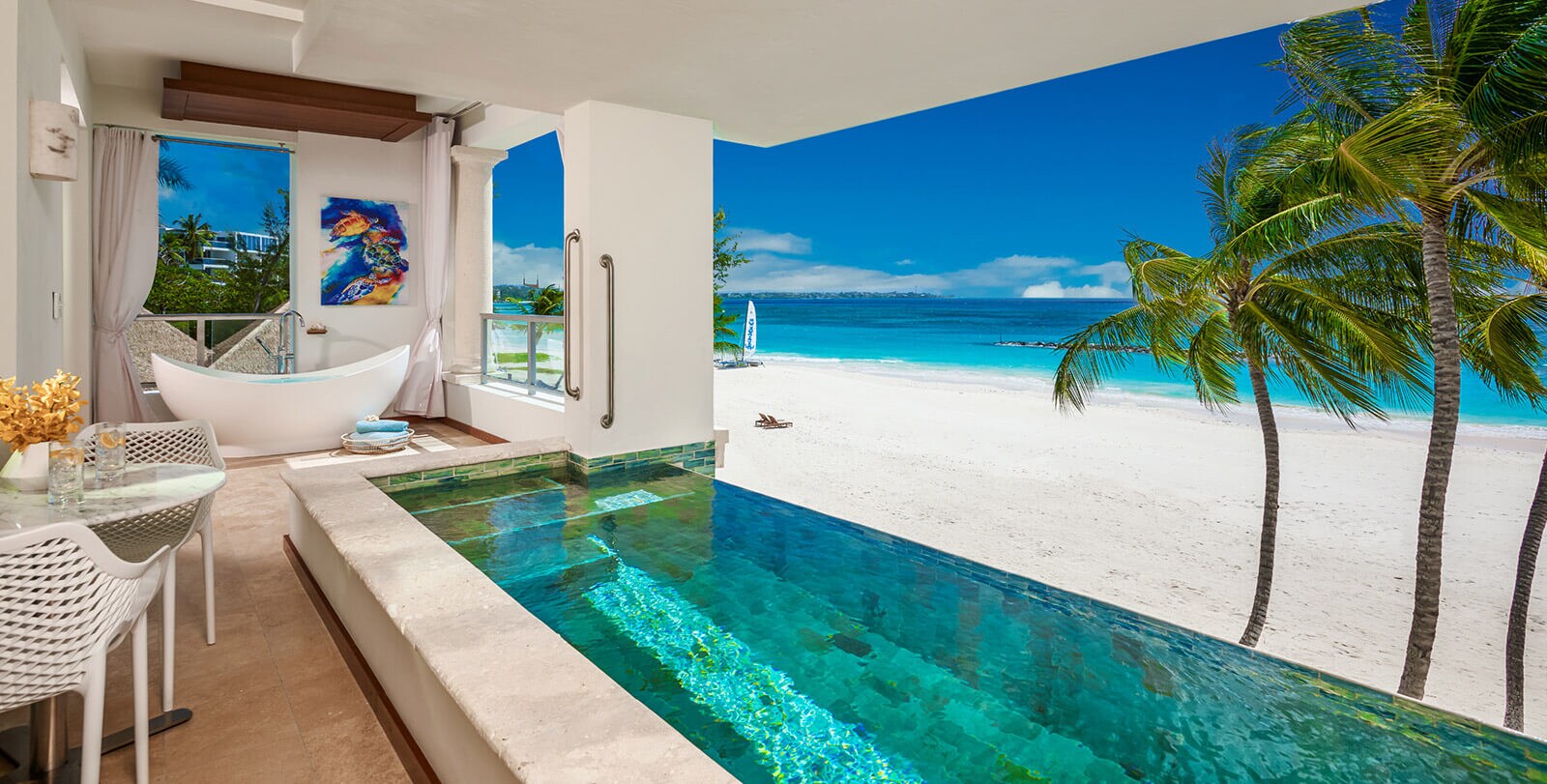 Skypool
Over-The-Water
Millionare
Beachfront
Garden
Outdoor
Crystal Lagoon
suites
Villas And Bungalows
Suites
Rondoval Suites
Rondoval Suites
Tranquillity Soaking Tubs
Swim-Up Suites
Romance soars to new heights in our SkyPool Suites. Open your bedroom doors to reveal an infinity plunge pool that seamlessly blends with the distant horizon. Glass mosaic tiling mimics the sky, while the surrounding coral stone brings it all back down to earth. Or step from your living room onto a terrace where a Tranquillity Soaking Tub provides a delightfully surprising romantic diversion.
Available at these resorts:
The Caribbean's first overwater suites are changing the all-inclusive game. Hovering above turquoise seas, these innovative accommodations feature see- through glass floors for ocean viewing, a Tranquillity Soaking Tub, an over-the-water hammock for two, a private infinity pool and personalised butler service.
Available at these resorts:
Combining indoor refinement and outdoor glamour, these suites are the epitome of Sandals luxury. The Millionaire Suites at Sandals St. Lucia are set at the resort's summit, each boasting a 180-degree view of the island's best ocean views and featuring a zero-entry plunge pool with waterfall and whirlpool. The Millionaire Suites at Sandals Negril offer secluded luxury including a private patio with a pool.
Available at these resorts:
Perched at water's edge, the beachfront Rondovals are imbued with a Zen-like ambience encircled by astonishing natural beauty. Just steps from the beach - and some right on it - these luxurious suites are the perfect retreats for celebrating love that's eternal.
Available at these resorts:
Epitomizing luxury and romance, the exotic Rondovals, our suites-in-the-round, surround you in modern luxury and tropical tranquillity. Steps away from the beach, tucked into hidden gardens, these romantic retreats feature 20' conical ceilings, intimate garden patios, private pools, mahogany furnishings, and personal butler service.
Available at these resorts:
While Sandals has created the most lavish bathrooms inside, we've also created a new signature outside. Our all-new Tranquillity Soaking Tubs are found on patios and balconies behind privacy curtains, creating a whole new way to celebrate romance.
Available at these resorts:
What could be more unique than swimming up to your own magnificent suite? The Swim-up Suites of Sandals are graced by rich furnishings and opulent details. The modern, open concept plans flow effortlessly from the private patio to a zero-entry platform at the very edge of a gently flowing lagoon pool.
Available at these resorts:
Select a resort to view Love Nest Suites®:
Currently, there are no Love Nest Suites at this resort.